The Future of In-Store Retail Shopping Goes High Tech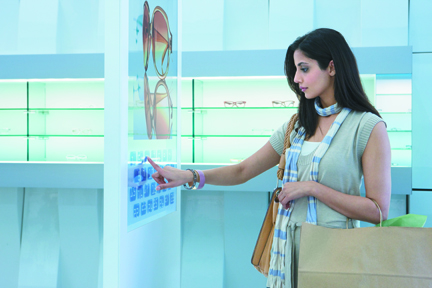 (ARA) – Remember the days of loading the station wagon and heading to the local mall to spend the entire day getting everything the family needs? Well, those days a long gone. Today, American shoppers are savvy and smart. They know exactly what they want and how they'll get it. The Internet has also taken a bit out of local retail shopping. As a result of this fast-paced shopping evolution we are witnessing, the retail environment is transforming, too.
Retailers are responding to this new "mission shopping" phenomenon by giving shoppers and consumers an intelligent, in-store experience driven by technology. The next time you visit your favorite retail establishment, don't be surprised if you see high-tech innovations that enhance your experience and make shopping easier than ever before.
Trend 1: Gamification
It's no secret that gaming is popular  for many people. With the growth in availability and affordability of new gaming systems in recent years, it seems everyone has their favorite game, and retailers are taking notice. It's no surprise that retail stores are integrating the fun and interactivity of gaming to bring the shopping experience to the next level.
At the forefront of in-store gaming interactivity is the HSN Touchwall, which is enabling the company to expand its reach beyond existing channels to new shoppers. Using this digital display, shoppers can take a virtual cooking class from world-renowned chef Wolfgang Puck, learn how to use his products and create shopping lists. It's all at the tips of their fingers – literally.
Trend 2: Connectivity
As our world becomes increasingly connected, people expect technology trends to seamlessly integrate into every aspect of their lives, and retail is no exception.
Today, more shoppers are conducting research prior to making a purchase. Even while in-store, you'll see many people looking up additional information on their mobile phones. In fact, some 52 percent of adult cellphone owners use their devices while in-store to assist with purchasing decisions, according to the Pew American & Internet Life Project.
Much like how you access your smart phone to get additional information and to connect to others, the shopping experience is becoming more connected as well.
This transformation can be demonstrated with the adidas Virtual Footwear Wall, which is powered by Intel and allows shoppers to access the entire shoe inventory via a digital display, view the product from any angle and see what others are saying about it on social networks. The capability to communicate in real time with fellow shoppers about your purchasing decision is essential in today's fast-paced, connected world.
Trend 3: Intelligent, Customized Advertising
Americans today are constantly bombarded with irrelevant advertising while companies are searching for ways to determine if their campaigns are effective. To resolve this, many retailers and advertisers are turning to digital signs to bring meaningful, immersive experiences to shoppers and enable more effective marketing for companies.
How does it work? Intel Audience Impression Metrics Suite (AIM Suite) anonymously detects user demographics – like gender and age – through an optical sensor, allowing the digital sign to instantly tailor its content. It's a win-win situation. Shoppers now get personalized information and advertisers have measurable results. To maintain shopper anonymity, the software doesn't collect any personally identifiable information or record any images or video footage.
One example is Kraft Foods' DIJI-TASTE, which offers complimentary samples of TEMPTATIONS by JELL-O desserts. The innovation? This product is marketed exclusively to adults, and with the Intel AIM Suite software that can detect if an adult or child is approaching the kiosk, only adults will receive the samples.
These three technology trends are only the beginning of what likely will be big changes for the future of shopping. Visiting your favorite store has never been more useful and fun.
(Article courtesy aracontent.com)
Save